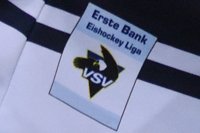 © Sportreport
Stefan Bacher vom EC VSV wurde vom Department of Player Safety (DOPS) wegen eines Checks gegen den Kopf- und Nackenbereich im gestrigen Auswärtsspiel beim Dornbirner Eishockey Club für zwei Spiele gesperrt.
Folgende Schlüsselindikatoren wurden als Grundlage für das Urteil herangezogen:
– Kontakt gegen den Kopf- bzw. Nackenbereich des gegnerischen Spielers
– Anhebung des Ellbogens um Kontakt zum Kopf herzustellen
– Offensichtliche Verletzung bei der Aktion
– Kein Wiederholungstäter
Damit ist Stefan Bacher für die verbleibenden zwei Saisonspiele des EC VSV gesperrt. Durch die 2:4-Niederlage in Dornbirn haben die Kärntner keine Chancen mehr auf eine Playoff-Teilnahme. Der Verteidiger kann somit erst in der nächsten Saison wieder in das Spielgeschehen eingreifen.
Das Urteil in englischer Sprache und in voller Länge:
The Department of Player Safety (DOPS) suspended Villach's Stefan Bacher because of a check to the head and neck area in yesterday's away game against Dornbirner Eishockey Club for two matches. As EC VSV has no more chance to reach the playoffs, the season of the defender is already over.
According to the Arbitrator and after reviewing video evidence, player Stefan Bacher (#19) of EC VSV, time 59:43, made contact with an opponent deemed as Checking to the Head and Neck, IIHF Rule 124. As per the EBEL Fundamental Rules V. 5,1 (b), video evidence was sent to PSC(IDOPS) for a final verdict.
From the perspective of DOPS, it has been determined Stefan Bacher (#19) delivered a body check considered illegal and deemed dangerous, as per IIHF Rule 124 – Checking to the head or neck.
On Friday, February 17th, in a game played in Dornbirn, Villach player #19 Stefan Bacher delivered a body check deemed as CTH, with 17 seconds left in a 4-2 game. The on ice call by the game officials was a 5/GM for CTH. As the video shows, Stefan Bacher skates in a direction of the puck carrying opposing player. While approaching and having a clear visual on the opposing player, Stefan Bacher appears to the opposing player to be attempting to make a legal shoulder check. Immediately before contact, it is deemed that with Stefan Bacher right hand on his stick and his left hand to his side , he chose to elevate his left arm to make direct head impact to the opposing player's head. By the video, it shows Stefan Bacher had no regard for the puck and only wanted to make body contact. With body contact in mind, the oneness is on Stefan Bacher to body check in a legal manner and the use of the left elbow is not deemed legal. The opposing player did attempt to let up on the play in what is deemed a normal skating manner. The opposing player was unsuspecting of the left elbow to be the contact point. Stefan Bacher will be suspended for 2 games, effective immediately.
Key references:
– Contact to opposing players head/neck area
– Elbow elevation to make head contact
– Apparent injury on play
– Not a repeat offender
From the perspective of DOPS and according to the EBEL Penalty Catalog Ref Nr. 111 – Checking to the Head or Neck, Stefan Bacher (#19) of EC VSV is suspended for 2 games, effective immediately and fined €400.00.
Next game Stefan Bacher (#19) of EC VSV is allowed to play:
tba
19.02.2017